Every day alerting devices
Home Paging Systems for people who are deaf or deaf-blind and hard of hearing
The New SA3000 Silent Alert Paging System
The new, improved Silent Alert Personal Paging System allows people who are deaf, deafblind or hard of hearing to get on with their lives with confidence, retaining independence & providing peace of mind for both the user and their families.
The system includes a discreet, fully portable Pager unit worn by the user & now the New SignWave Portable Sounder Flasher. New Mini transmitter units send radio signals to alert the user of a number of events around the home.
The unique Surekey™ feature, together with a different vibration pattern for each event, makes the pager fully accessible to the deaf blind user. High colour contrast coupled with Braille, moon or raised text adjacent to each key ensures easy access to this multi event system.
The Pager & SignWave Units are now Fire Safe compatible and can be used to log onto Fire Alarm Systems in public buildings where the Fire Safe System is installed. Please proceed to the Fire Safe Section for more information.
Read more
Fire Safe
SA3000 Silent Alert Fire Safe Paging System for people who are deaf
Make your fire alarm deaf accessible
The Silent Alert Fire Safe System offers service providers a simple and cost effective solution to the problem of providing fire alarm cover for people who are deaf within public buildings and workplaces.

The system includes a discreet Pager unit worn by the user. A special radio transmitter links directly to the Fire Alarm System and is triggered automatically when the Fire Alarm is activated. The Pager responds by vibrating and illuminating the fire key.

The New Fire Safe Compatible SignWave Portable Sounder Flasher is ideal for use in Hotel, residential homes & other multi occupancy accommodation as an alternative to a Pager unit.
Care Call
Discreet wireless alerting system for Carers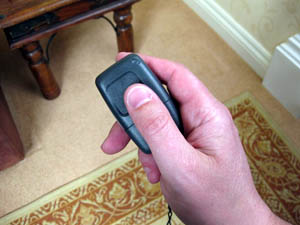 Person to Person Key Fob
The Mini Person to Person Key Fob can be used to page a carer who is in another part of the home or care facility: ideal when caring for someone who is either ill, has mobility problems or is prone to falling.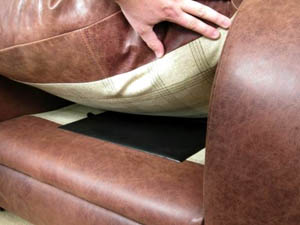 Chair Leaving Pad
The Chair leaving Monitor is ideal for use when caring for someone who may wander or have difficulty when trying to stand.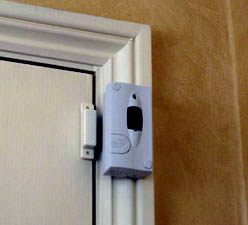 Magnetic Door Monitor
The Magnetic Door Monitor is ideal for use when caring for someone who may wander, or in any situation where a person may need to be alerted to the opening of a door or window.
Care Call offers a rapid and preventative approach to the remote monitoring of dependents at home, in a neighbouring home, or in a care facility.
It can allow a person to remain in the familiar surroundings of home for longer, whilst enhancing the carers' ability to prevent, or respond instantly, to emergencies. Thus, a carer can enjoy cost-effective peace of mind whilst providing better, faster cover.