Description
Lightweight & discreet, this fully portable vibrating pager unit with internal rechargeable battery is worn by the user on the belt, in a pocket or around the neck using the cord supplied. The unit works with both charger options CH3A-2205-IN Clock Charger and TR3A-2206-IN Trickle Charger providing 24 hour notification from the full range of Silent Alert monitors.
The unique Surekey™ feature, together with a different vibration pattern for each event, makes the pager fully accessible to the Deaf/blind user. High colour contrast coupled with Braille, moon or raised text adjacent to each key ensures easy access to this multi event system.
When used in conjunction with the Fire Safe™ and Mini Fire Safe™ systems, the pager enables the user to be notified of the activation of Fire Alarm systems.
Alert Options include
Telephone
Doorbell
Door Entry
Person to Person Key Fob
Baby Alarm
Car Alarm
Burglar Alarm
Smoke Alarm
Fire Alarm
Carbon Monoxide
Door Monitor
Chair Leaving
Movement Monitor
Fall Alarm
Low Battery
Live Baby Alarm volume display
Lightweight and discreet
Clear backlit display with integral symbols
Unique vibration patterns for each event
Integral battery level display
Last event recall
Fire Safe compatible
Monitor low battery notification
Surekey™ feature enables cancelation of the active key with a visual reminder
Braille, Moon or raised text labelling adjacent to each key for visually impaired users
Long range option extends the open air range from 100m to around 1000m
1 year warranty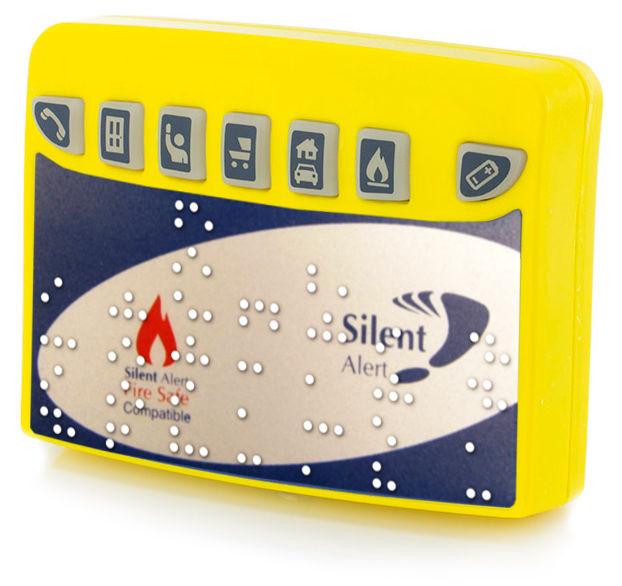 Operating Range